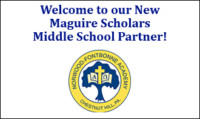 The Maguire Middle School Scholars are the best and brightest students in our partner schools. Each year, the highest achieving incoming 6th graders are selected to receive an annual scholarship for grades 6-8. Eligible candidates must have a demonstrated financial need, a GPA of 85 or above, and must give back to the community through service.
Middle School Partners:
Middle School Partners:
Independence Mission Schools
Catholic Partnership Schools, Camden, NJ
Testimonials:
Your belief in me with your scholarship has made me work harder so I can stay in Catholic Education. All I want to say is THANK YOU for giving me this opportunity.
A good education is important to me since I want to be a labor and delivery nurse. My parents took me from public school to Holy Name, I am so happy here and am so grateful to the Maguire Foundation. Your financial help makes it possible for me to have a Catholic Education. Thank you for helping me succeed!
I was very happy to learn that I was selected to receive a scholarship from the Maguire Foundation. It gave me a higher expectation to do my best to follow the requirements of the scholarship so I could keep it.  I was also thrilled that  through my academics I could help my mom by reducing my tuition.  This has been a great school year and being a Maguire Scholar was the highlight.  I often read the bookmark given to me along with the book. Especially the quote, "The race in life is not always to the swift but to those who keep running." Thank you, Maguire Foundation.
I am honored to be part of the Maguire Foundation. The Maguire Foundation assures us a better future in high school and college.  I am really thankful to have an opportunity like this.
Thank you, Maguire Foundation, for your help in providing tuition assistance for me. Foundations like yours make it possible for children, like me, to get a chance at a better education. Thank you for the faith and trust you have in me.