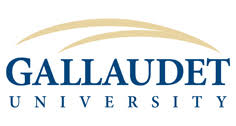 Gallaudet University  is a bilingual, diverse, multicultural institution of higher education that ensures the intellectual and professional advancement of Deaf and Hard of Hearing individuals through American Sign Language and English. Gallaudet maintains a proud tradition of research and scholarly activity and prepares its graduates for career opportunities in a highly competitive, technological, and rapidly changing world.
The Maguire Foundation has maintained a strong partnership with Gallaudet University for many years and supports its students and programs.
---
Gallaudet Officially Opens the Maguire Welcome Center

On April 9, 2018, Gallaudet held a grand opening for the new Maguire Welcome Center! Read more.
---
Internship Programs
The Maguire Foundation and PHLY worked together to start a summer internship for the Deaf at PHLY.  PHLY is the first insurance company to hire Deaf Risk Management Insurance interns from Gallaudet University.