Our Founders: James J. and Frances M. Maguire
With great love for one another grew a lifetime of hard work; an attention to building a strong family, a healthy business, physically focused lifestyles, and a continual call to recognize the spirit in all of us.
"We saw an opportunity to create a continuum of education by educating kids in grade school to high school and into college," says James Maguire. "We want them to progress into a leadership role in society. Financial support is an important part of education that is not readily available today, and we want to help fill that void."
When James J. and Frances M. Maguire met, they couldn't imagine the number of opportunities and blessings that would enter their shared life. Today, they give back to the organizations and people that are making lives better and helping the greater Philadelphia community prepare for a brighter future.
---
Challenging Start
Mr. Maguire was born during the Great Depression into a large Irish Catholic family in Germantown, a neighborhood in Philadelphia, PA. His father, Thomas (who was partially deaf), was employed by Met Life Insurance. Because of his father's value to the company, promotions came, and the Maguire family moved to different cities in New York State. With each move (there were four in ten years) and another new school, many people didn't notice that James was struggling in school. After the unexpected passing of Thomas Maguire at the age of 45, the lack of his father's presence made for difficult times. But James' mother–tough loving Ruth Maguire–wouldn't let things slip. She helped to ensure that James would stay on track and work hard for a better life.

James went to Niagara University on a basketball scholarship, only to be declared academically ineligible after the first year. He returned to Philadelphia with hopes of attending SJU, but was unexpectedly drafted into the Korean War. Upon his return from Korea, James entered SJU on the G.I. Bill but continued to struggle academically, until he met the Reverend Hunter Guthrie, S.J., a preeminent early pioneer in the study of dyslexia! Fr. Guthrie, early on, recognized that James was dyslexic and he worked tirelessly to help him overcome his reading/comprehension difficulties. James went on to graduate from SJU in 1958 with a 3.0 GPA.
Saint Joseph's University would forever remain close to the heart and mind of James Maguire throughout his life and his career.
---
A Successful Career
James started out with Met Life where his father had a successful career. But on day one, it was clear that he did not want to spend his time working behind a desk as a collections agent. He soon convinced the company to allow him to sell insurance to his friends in the deaf community whom he had connected with while volunteering at the Pennsylvania School for the Deaf during his college years at Saint Joe's.
James asked for and received approval from Met Life to sell standard insurance to the deaf community, a first in the company's history, and went on to become a sales leader at the company! In 1960 (18 months after graduating from SJU), he moved on from his first post-graduate job with Met Life and formed Maguire Insurance Agency, where he soon began offering specialized insurance solutions to the automobile industry. In 1969, the agency landed its first national account with Chevrolet dealers, leading to the creation of the innovative and comprehensive WHEELWAYS program for automobile dealers. On the strength of this program, Maguire Insurance Agency expanded to 15 offices across the country by the mid 1970s.
In 1980, Mr. Maguire formed a holding company, which today owns several subsidiaries, including Maguire Insurance Agency, Inc., an insurance marketing company licensed in all states, Philadelphia Insurance Company, approved to write surplus lines insurance in all states, and Philadelphia Indemnity Insurance Company, its flagship company, licensed to write property and casualty insurance in all 50 states. Today, James, the company's Founder, continues as Chairman Emeritus of Philadelphia Consolidated Holding Corporation.
After going public in 1993, the company (NASDAQ PHLY) would eventually grow to offer coverage in over 100 niche business markets and employ 2,200 people in 50 offices across the country. In December 2008, James–working with the PHLY management team–negotiated and completed what was considered to be one of the largest transactions for financial firms in Japanese history through the $5 billion merger with the Tokio Marine Group.
---
Life After PHLY–Giving Back
James holds honorary degrees in law from Gwynedd-Mercy University and Chestnut Hill College, an honorary degree in humane letters from Saint Joseph's University, and is an honorary member of Beta Gamma Sigma. He is a past member of the board of directors and executive committee for The Pennsylvania Insurance Federation, a charter member of the Saint Joseph's University Magis Society.
James is also a recipient of the "Horatio Alger Medal for Philanthropy", the Shield of Loyola (the highest honor awarded by Saint Joseph's University) and has been honored by the university that named their new 38 acre Merion campus The James J. Maguire '58 Campus. Read this: James J. Maguire, '58, Gives the 2014 Commencement Address at Saint Joseph's University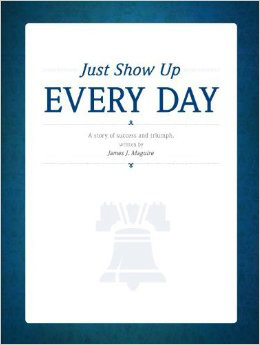 In 2012, he published an autobiography titled Just Show Up Every Day (available on Amazon.com and the Kindle Store), which chronicles the history of Philadelphia Insurance Companies, the Maguire family, and his personal struggle with dyslexia.
James J. and Frances M. Maguire married Thanksgiving day in 1957 and are long-time residents of Chestnut Hill, PA. They are very proud of their 9 children and 24 grandchildren.