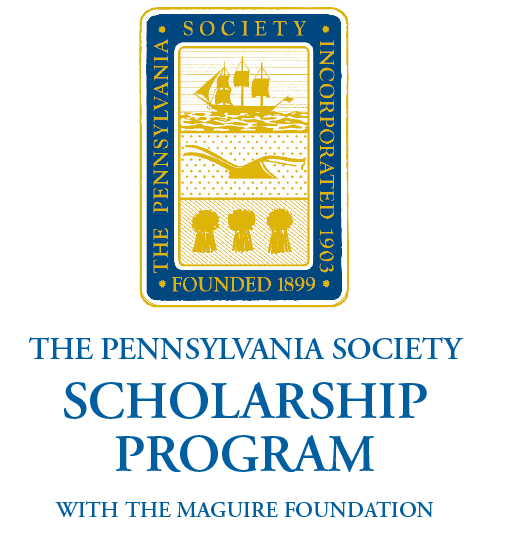 The Pennsylvania Society and the Maguire Foundation are excited to launch The Pennsylvania Society Scholarship Program in partnership with the Maguire Foundation. In its first year, the scholarship program will offer $200,000 in scholarship awards for Pennsylvania high school students to attend college in Pennsylvania.
"Education raises you up and makes you believe that you can be a leader," said James J. Maguire, President and Founder of the Maguire Foundation. "Providing this opportunity to students who are financially in need creates a great potential leader in the Commonwealth of Pennsylvania."

Colleges and Universities

High Schools
---
The program is now accepting applications for renewable college scholarships worth up to $8,000 a year. To apply, a student must:
Be a current high school senior at any Pennsylvania high school (including home schooled)
Have a minimum 3.0 GPA on a 4.0 scale or its equivalent
Be planning to enroll in full-time undergraduate study at an accredited, nonproprietary, four-year college or university in Pennsylvania for the entire 2016-2017 academic year
Demonstrate financial need
Have been and continue to be an active participant in community service
Once earned, awards are renewable for up to three additional years or until completion of a Bachelor's degree (whichever occurs first), provided students continue to meet eligibility criteria. Scholarship recipients must take a minimum of nine credits in government/politics, civics, and/or US history. Twenty-five recipients will be selected in the first year.
"Our goal is to make Pennsylvania stronger," said Nicholas DeBenedictis, President of The Pennsylvania Society.
Those who intend to stay in Pennsylvania, take pride in its history, and make an impact, can learn more and apply by visiting www.scholarsapply.org/pennsylvaniasociety.  The 2017-18 program is now closed.  Please check back in late August for the 2018-19 application.
About The Pennsylvania Society
Founded in 1899, The Pennsylvania Society is a non-profit, non-partisan patriotic and charitable organization with more than 2,000 members from The Commonwealth and throughout the United States and the world. Founded to encourage the ideals of William Penn, its purpose is to honor achievement, reward excellence, promote scholarship, good will and understanding, and unite all Pennsylvanians in bonds of fellowship and friendship. For additional information about The Pennsylvania Society, please visit www.pasociety.com.  
---
About the Maguire Foundation   
Maguire Foundation is committed to improving the quality of life for people through investment in education, arts and the humanities, and in the relief of hunger and homelessness. For more information about Maguire Foundation, please visit www.maguirefoundation.org.